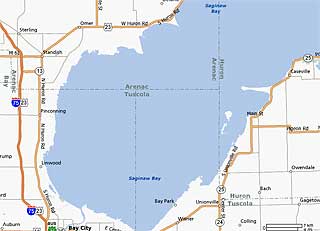 Last year Michigan put up their first onshore wind farm. Now, it looks like wind power will go offshore in the Saginaw Bay area of Lake Huron. I've talked before about wind turbines heading for open water in Norway and perhaps even off the East Coast.
But, now the windy Great Lakes region may start to be populated by powerful generators of renewable energy. A man named Steve Smiley (how can you not like this name?) envisions the Saginaw Bay area of east Michigan sprouting wind power in the near future.
Smiley has already helped construct two other wind turbines in Michigan in the Mackinaw and Traverse areas. According to the local wind maps that show where consistent corridors of high winds prevail, the territory they harbor is over the water.
According to Smiley, part of the infrastructure to build the needed wind turbines exists in Flint, Michigan which will make the residents there plus Michael Moore very happy people. I've talked in the past about combining wind and water turbines in one platform where both the air and watery currents would support it.
This probably won't happen in Saginaw Bay, which is relatively shallow. But, finally, someone is taking notice that the windy Great Lakes region makes sense for wind farms both onshore and offshore. Now, if we can just get the same enthusiasm along the Gulf Coast region we'd be in business.
T. Boone Pickens is calling for wind farms from Texas northward to Canada. And, if we can get people to put up residential wind turbines nationwide, this country will be the air apparent to so much renewable energy, in the future, the Saudis will be left standing, with sad faces, in pools of their own oil.