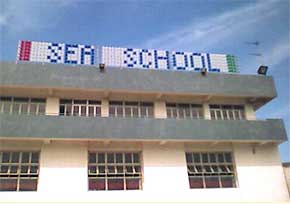 At first glance some small microturbines like the MotorWind from MotorWave may seem like novelty items, and perhaps they are. But, these circulate nylon blades also have a dual function, which is advertising / education.
These microturbines have already been tested in hurricane force winds in Hong Kong in 13 different locations without any damage. At the Hong Kong Sea School 396 round turbines were placed atop their building spelling out "Sea School".
So, the dual advantage of energy generation plus advertising that I had talked about previously can clearly be demonstrated here. The turbines will start generating electricity with wind as low as 2 mph.
As few of 60 of these small turbines can power an average size apartment. Here's a good video on the circular MotorWind turbines in action on a rooftop in Hong Kong. If you decide to go to their website you may want to turn down the sound as they have some annoying "music" playing.
Thanks much to Bill C. for sending in this tidbit of wind generation information.