As one of the major participants in the global hydrogen generator industry, Linde AG, the world's largest industrial gas supplier, continues its bid to challenge manufacturers of battery-powered vehicles such as Tesla when it comes to providing gas, particularly hydrogen to run cars. For years, the company has been researching on how produce hydrogen from excess wind and last year, it opened a plant in Germany that converts as much as 6 megawatts of power from wind farms into hydrogen via electrolysis of water.
This is for the production of H2 fuel that is void of carbon which will start from gas extraction to refueling stations and then to cars. According to the company based in Munich, this will have a positive impact on the "green" qualifications of hydrogen.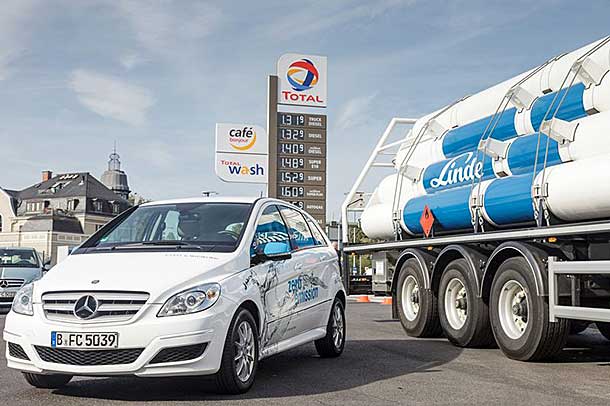 Criticisms
Elon Musk, Tesla CEO commented that hydrogen gas manufactured commercially still results in too much carbon emissions and that conversion of the natural gas to hydrogen capable of running fuel cells requires energy consumption. Furthermore, there are risks in transporting and storing hydrogen gas.
However, an analyst for Bloomberg New Energy Finance argues that there are a couple of benefits hydrogen-fuelled cars offer as opposed to battery-powered vehicles. Salim Morsy argues that the five minutes needed to refuel a car running on hydrogen that can run up to 400 miles is better and faster than the seven hours it takes to recharge a battery for electric cars that can only last for half the distance.
As for the issue that says hydrogen fuel cells are only slightly better in terms of being environmentally friendly than vehicles that undergo traditional combustion, Linde AG claims that Energiepark Mainz which stemmed from the collaboration of Linde, Stadtwerke Mainz, the RheinMain University of Applied Sciences and Siemens will produce green hydrogen and put an end to the skepticism. In line with this, BMW AG also conducted tests on vehicles run by hydrogen gas.
There have already been other developments related to fuel cell manufacturing last year with Toyota Motor Corporation successfully launching its "future" hydrogen-fuelled car, the Mirai. Also, more hydrogen-refueling stations have been operating in different parts of Germany.
The head of research and development for Linde, Andreas Opfermann also said that the company has leverage over battery-powered cars since there are more refueling stations available for consumers that are standardized unlike in recharging battery cells where voltage requirements differ in different countries.
Refueling Station Accessibility
What makes people behind "H2 Mobility" confident and excited about this new technology is the potential of making hydrogen gas accessible to drivers in Europe by the year 2023. Participating gas station operators such as Total SA, Air Liquide SA and OMVAG are also working with the groups pushing for using wind to hydrogen.  These groups are planning to add 400 refueling stations in the near future.
Meanwhile, building new hydrogen-only gas stations is not part of the plan. Opfermann said that in lieu of totally new H2-only infrastructure, they are looking into simply adding hydrogen refueling station pumps to existing station sites.
References
http://www.bloomberg.com/news/articles/2015-07-02/german-wind-to-hydrogen-plant-takes-car-fueling-battle-to-tesla
http://www.fch.europa.eu/project/green-industrial-hydrogen-reversible-high-temperature-electrolysis