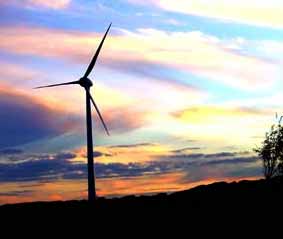 Texas and Illinois, who earlier this year competed for the FutureGen clean coal prototype power plant are turning to other green energy solutions to help clean up their states. Last week I had talked about how wind farm technicians are needed in several states because turbines are popping up faster than employees.
Now, General Electric has decided to add to the labor market by putting up wind farm in both McAdoo, Texas and Grand Ridge, Illinois. GE is partnering with Invenergy Wind LLC to produce 250 megawatts of electric between the two states.
The McAdoo project in Dickens County will have 100 GE wind turbines that will produce 150 MW of power. Meanwhile the Grand Ridge project in La Salle County will have 66 GE wind turbines that will produce 100 MW of power.
Both the McAdoo (sans Bob) and Grand Ridge projects will come online as early as the third quarter of 2008. The GE wind farms in Texas and Illinois will supply power to 70,000 households and will replace 526,000 metric tons of greenhouse gases with clean renewable energy or the equivalent of taking 96,000 cars off the road.
In order to keep the wind farm boom alive, GE is calling for the U. S. government to renew the Production Tax Credit due to expire at the end of this year. For those who don't want to wait for a wind farm to be built locally, you can always take matters into your own hands and put up your own home wind turbine and start saving money on your electricity bills now.