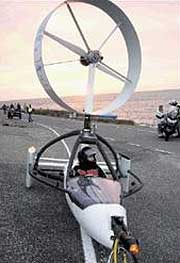 This one escaped me last summer so I thought I would catch up and talk about it now. The Ventomobile, which is a wind-powered velomobile may just be one of the most unique green vehicles on the planet.
A typical velomobile is a human-powered vehicle (some come with electric assist, too) that one sits inside, is sheltered by the elements, and pedal like a bicycle. Human energy is all that is typically needed to propel the velomobile.
But, a team at Stuttgart University in Germany has added a twist to this little iconic vehicle by making one that is wind-powered. The Ventomobile uses wind energy and a turbine atop the vehicle to generate kinetic energy to move the green beast forward.
The driver of the Ventomobile uses foot pedals to steer the craft while they use their hands to face the turbine into the wind (or at a preferred angle to the wind) to create the needed propelling energy.
Now, some may argue that the Ventomobile is nothing more than an interesting novelty. But this vehicle came in first place in the North Holland Aeolus Race in August 2008 beating out five other universities and research centers.
The Ventomobile did this amazing feat by driving into the wind with a top speed of around 15 mph. Traveling with the wind is no big deal for any vehicle but when running against the wind, as Bob Seeger may attest, just may take the power of a Ventomobile.