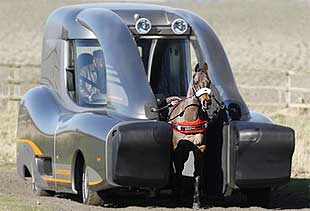 Okay, this definitely comes under the WTF category, but being a green vehicle I just have to talk about it. Just by looking at this car, I want to break out into song such as "Dashing through the snow, in a one-horse open sleigh" or talk about the carriage rides in NYC and other places.
I read a blog that called this thing an Amish car. That would be quite amusing if it wasn't only powered by the horse but for the horse. You see this vehicle is not built for the benefit of the person riding inside but it helps racehorses train for the big day.
According to the Kurt Systems website, "For on-track or off-track use suitable for racehorses, trotters, endurance and camel training fully adjustable and controlled speeds from walking pace to galloping at up to 16m/sec (60 km/h). Safe controlled training programs and performance evaluation. Confirm training intensity, with built-in hearth rate monitors. Allows trainers carry out regular fitness tests and comparisons.
"Various, precision designed hydraulically controlled, saddle/jockey weight accessories. Built-in, integrated, computerized testing systems, sophisticated fitness testing on the training/race track. Measure fitness with heart rate, blood lactate and oxygen uptake."
Whatever happened to giving horses swimming lessons for training and rehab purposes? I was quite fond of seeing thoroughbreds doing the Australian crawl. As technology goes, they may be putting the cart before the horse on this one. Then again, perhaps the next Seattle Slew may be just around the corner.