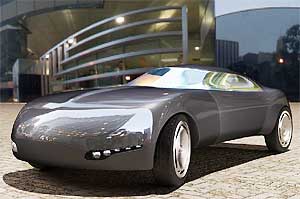 There is a hydraulic hybrid car in the hunt for the Automotive X-Prize that is geared towards getting over 100 mpg. A company called Lightning Hybrids is keeping the details of their new hydraulic engine very hush-hush as patents are pending and competition is fierce.
What the company is saying however is not only will the car be able to achieve 100 mpg using biodiesel or standard diesel fuel but it will also accelerate from 0 to 60 mph in just 5.9 seconds. Some other details the company is willing to part with include that this hydraulic hybrid car uses true cylinder deactivation to save fuel, has no transmission, no valves, no flywheel or no crankshaft weights.
The Lightning hydraulic hybrid uses an upscale form of regenerative braking to recapture energy, dump it back into the hydraulic accumulator and help in acceleration. The body of the vehicle is similar to Indy cars, using chrome molybdenum tubing. The car is also aerodynamically designed to cut down on drag and if put into production this would be one of the fastest delivery vehicles on the planet.
They say that "necessity is the mother of invention". In these trying automotive times, with the Big 3 Automakers stumbling close to bankruptcy it's engaging to see the small entrepreneur stepping forward with new ideas and concrete green concepts.