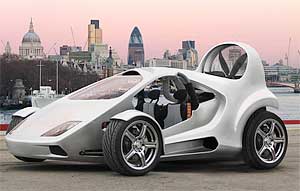 Sometimes there is just too much good news all at one time when it comes to the alternative fuel vehicle sector. This is the case today when BMW has announced that 10 Mini E electric cars are coming to New York and the bio fuelled Parajet Skycar is set to take to the skies.
The 10 Mini-e electric cars that BMW is piloting in New York City are part of the 500 lot of cars the manufacturers says it will rollout later this year as part of a field study. Around 450 Mini Es will be leased to consumers who will be able to drive up to 150 miles on one charge.
The New York Mini E vehicles will be used by SCOUT inspectors to check out potholes and graffiti and inspectors typically travel up to 100 miles per day. The Mini E (not Minnie Me) vehicles are powered by lithium ion batteries and an electric motor rated at 201 hp equivalent. The Mini E can go from 0 to 60 mph in 8.5 seconds and have an electronically limited top end speed of 95 mph.
The Parajet Skycar (pictured) on the other hand is a totally different beast altogether, though an environmentally friendly one at that. Powered by bio fuel, the Parajet Skycar can take off from a 200 meter landing strip with only 3 minutes of wing preparation.
The Parawing can also be folded and put away into the trunk of the car by the driver as needed. According to the manufacturers, the Parajet Skycar is street legal and when flying it can go up to 100 mph. If the Skycar gets in trouble its parachute deploys and it glides to a smooth landing. The vehicle can be used on road or off road as needed.
A few years ago the BMW Mini E would have seemed as farfetched as the Parajet Skycar is now. It goes to show you how quickly things change and how AFVs are taking the streets and now skies by storm.