You may have used steam to open up your pores, prepare instant coffee or tea or even clean your carpeting. But, have you ever used steam to propel yourself 148 mph?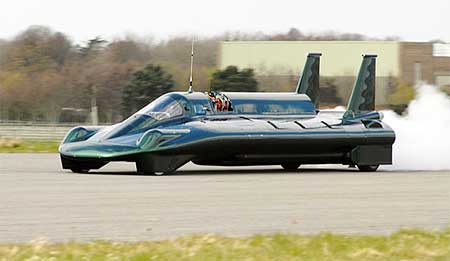 This is what Chuk Williams of the U. S. Land Steam Record (USLSR) Team has done and they are not finished. In August 2011, Mr. Williams and his fine team of "Steam Heads" that like to blow off a little steam now and again expect their newest vehicle to pass the 200 mph mark.
Now, doesn't this want to make you wet your pants? Okay, it does me. Anywho, trying for land steam car records is not new. In 1906, a steam-powered car sizzled into the record books by rocketing its water-propelled engine at 127.66 mph.
In 1985 the record was set at 145.607 mph. Then in 2009, the USLSR Team steamed the competition at 148.308 mph. But, what is excellent about this water powered vehicle is not that it will get you hot and moist with the excitement of raw speed but it's very clean as well (steam clean).
In fact, besides water, the team can use 100-percent biofuels to heat the water into steam making this a green, clean steaming machine that will blast down the Bonneville Salt Flats like a laser beam.
So, water you waiting for? Book your tickets to Bonneville and cheer on the team that will make you scream for steam.