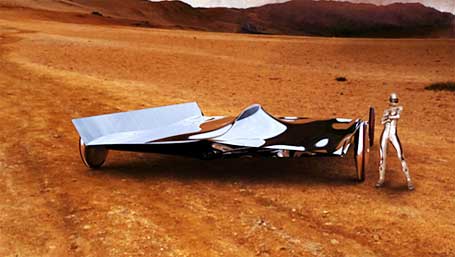 Until now, vehicles powered by solar energy have had a decidedly geeky appearance. While innovative, most lack the "wow" factor that triggers that must-have feeling among car aficionados. A new solar-powered vehicle concept car, appropriately called the SPV, has the wow factor in spades.
Wide, flat and low, the SPV looks more like a stealth bomber than an automobile, let alone a solar-powered one. The design features an aluminum structure covered with thin-film modules that could potentially collect enough of the sun's energy to not only power the car, but provide electricity to the owner's home as well.
The SPV is the vision of London designer Omer Sagiv, whose previous projects include a remote control for air conditioning units, running shoes crafted with materials from auto manufacturing, and space-age bicycles that have won the Merit Prize at both the 2008 and 2010 Taipei International Bicycle Design Competition. Sagiv currently works as a designer for Ron Arad Associates in London.
Sagiv submitted the design to Designboom, a European design website that features competitions in the fields of art, architecture, photography and graphics. The back of the vehicle folds up to allow access for the driver.
The SPV's futuristic design is cool, but definitely not built for driver comfort. A central pod provides space for the driver, but it's unclear whether they recline or sit to operate the car. It's that low. The front two wheels have no hubs. A center shaft serves as a cooling system as well.
Sagiv holds no illusions that the SPV will be produced any time soon. He allowed the "form follows function" concept to dictate his design. It's a principle that has served Sagiv well in the past. He has successfully used his background in art and design to bring a number of futuristic concepts to market.
Sagiv studied at both the Accademia Di Belle Arti in Florence, Italy, and the Holon Institute of Industrial Design in Israel. He envisions the SPV being used in cities like Las Vegas, where the terrain is typically flat and the weather is sunny.
In an interview with the Atlantic Cities, Sagiv summed up his vision: "In my eyes a concept should push boundaries and rely on future technologies, which doesn't mean futuristic tech, but tech we know already exists but has not reached its full potential yet."
It's forward-thinking people like Sagiv who demonstrate that the boundaries of solar technology are truly limitless.
View more photos of the SPV at Designboom.
—
Brittany Mauriss is a UCLA grad with a passion for all things renewable energy. Her specialties are residential solar, green gadgets and human-centric journalism. Follow her on Twitter @BrittanyMauriss.