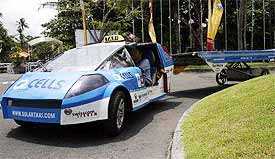 Some people may take a Big Yellow Taxi and pave paradise and put up a parking lot. But, Swiss Teacher Louis Palmer is taking a small blue environmentally-friendly taxi around the world. The solar-electric hybrid two-seat taxi with trailer is an attempt to call attention to global warming while providing solutions.
Palmer so far has traveled from Lucerne, Switzerland 8,950 miles to Bali in Indonesia. Louis Palmer is about one-third finished with his trip that will be over 25,000 miles long by the time it is over, a bit longer than a trip around the Earth's equator.
The solar taxi pulls a trailer with photovoltaic cells attached for direct power from the sun. The vehicle has a top speed of 55 mph and if the solar taxi travels over 60 miles in one day the vehicle's battery kicks in. The battery also stores energy from the solar panels to use as needed.
Palmer says he's willing to pick up passengers along the way and so far has traveled to 17 nations picking up everyone from drunks to princes. Along for the ride is also Thomas Gottschalk a German engineer heavily involved in this project.
By the time the solar taxi travels the Earth it will have been to 50 different countries upon five continents including the United States.