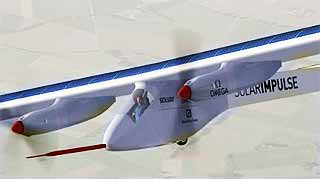 The Solar Impulse, Swiss solar-powered airplane has gained backing from the International Air Transport Association (IATA) and may take its first test flight in early 2009. The President of Solar Impulse, Bertrand Piccard (could he be a Trekkie) signed an agreement with IATA CEO Giovanni Bisignani for his organization to gain traffic control clearance worldwide for the upcoming trip.
The goal is to become the first manned solar plane to make a trip around-the-world (albeit not in 80 days) and will fly 24 hours day and night. In 2009, the Solar Impulse (HB-SIA) airplane with its 61-meter wingspan that is currently in development could make a 36-hour flight without any fuel.
The next generation of solar plane will have an 80-meter wingspan, a pressurized cabin and be capable of long-haul missions. In 2011, the Solar Impulse is scheduled to make its around the world flight using 5 stopovers in different locations. Five pilots will fly 3 to 4 days each on the different legs of the trip, the maximum endurance limit for each pilot.
The solar plane will be equipped with 12,000 photovoltaic cells on the wings and lithium-ion battery pack to store the extra energy and fly at night. The four electric motors will combine for a maximum power rating of 30 kw and an average speed of 40 mph.
Of course, the Solar Impulse isn't the only solar plane in town. The QinetiQ Zephyr unmanned solar plane can fly for a couple of days with its photovoltaic wings and rechargeable batteries. In fact, it set a world record in September 2007, for flying 54 hours straight at the White Sands Missile Range in New Mexico.
But, there is something about manned flight in a solar airplane that is an especially lofty goal. Of course, not everyone will be able to fly in a solar plane or wait until after 2011 to get into the solar game. In order to do something now, you can get a flexible solar panel for recharging mobile devices, marine or RV batteries. This may not be as lofty as a solar plane, but it's a good place to start.