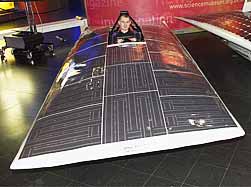 The Durham University Solar Car (or DUSC) will compete for the first time in the 2008 North American Solar Challenge. The Dusc is only one of six solar cars currently signed up, out of 30 probably challengers for the grueling 9-day, 2,400 mile race from Dallas, Texas to Calgary in Alberta, Canada. The 2008 North American Solar Challenge will take place from July 13 – 22, 2008.
The students have been working on the Dusc solar car since 2004 when it was built and is now undergoing significant upgrades in order to improve its performance. The DUSC2008 solar car is capable of traveling at 45 mph and will be put to the test this summer as the only representative of the UK in this race.
Like the other solar cars in the race, the Dusc carries one person only and is powered by a series of photovoltaic cells assembled across the top of the vehicle. The Dusc solar car is currently on display at the Science Museum in London. If all goes well in North America, the Dusc will also compete at the World Solar Challenge in Australia.