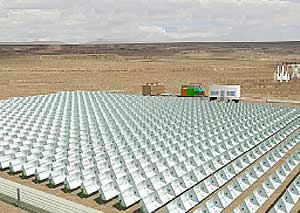 Sopogy, Incorporated has broken ground on the Big Island of Hawaii on the Keahole Solar Power renewable energy farm. This solar farm will be the first of its kind to use Sopogy's large-scale MicroCSP solar concentrating system.
The Sopogy MicroCSP solar collector uses optics and reflectors (sans smoke and mirrors) to create heat that turns its turbines to create electricity. Sopogy also has large-scale installations in the Mojave Desert and on the Big Island of Hawaii in the city of Kona.
What makes the Sopogy system different than other concentrated solar power collectors is that first it is being built to withstand the kinds of storms common in Hawaii that don't often cross the Mojave Desert. And, second, the operating temperatures (200 – 400 degrees F) are kept such that contractors are easily able to service the solar farm.
According to Sopogy, fixed photovoltaic technology such as that used in residential solar panels, have an efficiency of only around 15-percent. The Sopogy MicroCSP parabolic solar concentrators, which track the sun, however, can sustain efficiencies in the 20 to 40-percent range.
But, for those who don't want to wait for solar farms to be built in their locations and wish to take matters into their own hands, you can check on the incentives offered by federal, state, local and utility resources at the DSIRE website. All you have to do is click on a state on their map to see what is being offered in your area.