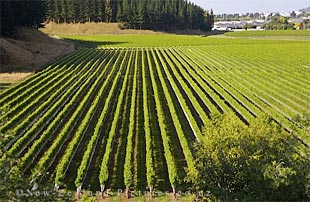 There are some industries that provide a poetic and natural pairing with solar energy. Take for instance wineries. The sun shines down on the vineyard encouraging the grapes to grow into what one day will become fine consumer merlots and cabernets.
And, since the price of photovoltaic has dropped recently wineries have taken notice. Take for instance Constellation Wines U.S. that has just announced that its Gonzales Winery in Monterey, California will be powered by Mitsubishi solar panels.
The 1.2 MW solar installation upon the rooftop of the winery will cover around 170,000 square feet, the carbon footprint equivalent of planting 2,500 acres of trees. During the summer months before the harvest of grapes, the winery's solar panels will sell electricity back to the grid and give PG&E enough current to supply one-quarter of the residents of the city of Gonzales with power.
Meanwhile at the Far Niente winery in the city of Napa in Northern California, floating solar cells sit upon a water treatment pond. These floating cells serve the dual purpose of inhibiting algae growth while supplying solar energy for the pumps.
And, in Central Texas, the Red Caboose Winery is already using geothermal wells for one renewable energy source and the main eco-architect, Gary McKibben plans on installing complimentary solar panels as well.
From sun to grapes to producing wine to the wine itself a natural progression is in order that is clean, renewable and very, very green.