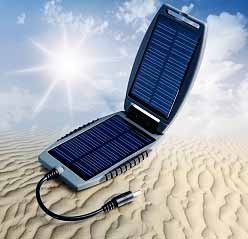 At the Consumer Electronics Show in Las Vegas solar chargers are everywhere. Different manufacturers have chosen this event to debut their solar chargers for laptops, cell phones, iPods and other small and larger electronic devices.
Is this the year of the solar charger? Perhaps. There are many companies competing this year in this market, which is driving down costs and this trend will only continue to escalate.
For instance, there is a company called Powertraveller, which makes the SolarMonkey portable photovoltaic charger. The SolarMonkey has no internal battery of its own and transfers electricity directly to your small electronic device.
Then there's the NRG Dock that makes a larger solar charger for homes and a small one for apartment dwellers. Next, there is Diversified Power International (DPI) that has designed a solar-powered battery charger that can provide electricity to automatic gate openers, but is being developed for larger applications such as emergency vehicles, sump pumps and recreational vehicles.
A company called Solio makes a Hybrid 1000 solar recharger for that can charge a Blackberries, MP3 players and GPS devices to name a few. The last hot item that needs to be mentioned is by a company called Iqua that has introduced the world's first solar-powered Bluetooth headset. The Iqua Sun is stylish and when placed upon a car's dashboard will have unlimited operating time.
These are just a few of the new solar chargers to be hitting the marketplace this years. The mantra for the manufacturers may well be, "when it comes to solar chargers, the sky's the limit."