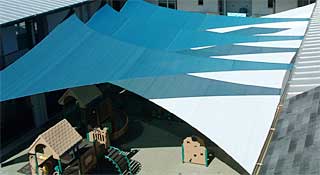 If you've ever been looking for a shady parking spot only to come up empty or shady outdoor seating at a restaurant you may appreciate the SkyShades company that builds such devices to keep us cool. But, what you really may like is that SkyShades has teamed up with photovoltaic company Konarka to put thin, flexible solar panels on its canvas shades.
In May this year I had talked about HelioVolt who had taken to producing thin solar panels on a printing press. Konarka has developed a similar printing process and is able to install its thin solar on all types of materials including canvass and other highly portable materials.
SkyShades has stated that partnering with Konarka has been advantageous in their marketplace. Potential customers have been barely interested in shade coverings alone, but with the addition of solar power, which will help to power parking structures or parts of coffee houses, this has become a new, green selling point for them.
The return on investment for some of their shade structures with solar panels is only two to three years. The solar umbrellas will be a boon to coffee houses, restaurants and other places people lounge with electronic equipment since patrons will be able to recharge their cell phones and work on their laptops while hanging out.