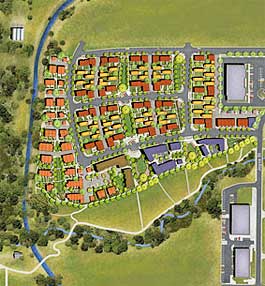 I've already talked about how residential solar panels are getting cheaper in California. But, imagine now not only a new home that already has solar panels installed, but the whole neighborhood.
This is what is taking place in Colorado between Denver and Boulder with the Geos master-planned eco-community. Residential solar panels on all of the homes that are being built will account for 65-percent of the electrical offset. Other energy savings will come from geothermal, design, heat recovery and other methods in order to provide 100-percent of the energy required by this community.
And, the homes in this master-planned community are not just for the rich and famous. These photovoltaic equipped eco homes will start at around $200,000 making them affordable as well as energy efficient and sustainable. The houses will be placed in a checkerboard pattern in order to retain solar efficiency and storm water conservation will also be employed.
Now, not everyone will want to wait for solar power to be built into a community near them. For the rest there are DIY projects, professional installation or checking to see if companies offering purchase power agreements have come to your community.
But, the Geos Neighborhood is another step in the right direction of developing homes and communities with solar power right from the get-go. Over time, solar homes and sustainable living will become a mainstreamed part of our culture. Until that time, however, we must build it one house and one neighborhood at a time.