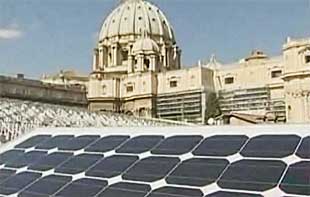 Oh, let the light rain down from the heavens as Pope Benedict XVI has officially unleashed the power of solar energy onto the Vatican. Approximately $1.5 million worth of solar panels have just been unveiled on the Paul VI auditorium on which the Pope gives his weekly address to the pilgrims.
The Pope has embraced the 2,700 solar panels as a way to save 200 tons of carbon dioxide in his bid to green the environment and provide heating, cooling and light to the 6,000 seat hall. The Pope has in the past criticized the unfair and unbalanced use of energy worldwide and the installation of the solar panels at the Vatican symbolizes the democratization of renewable energy resources.
The auditorium was designed by Pier Luigi Nervi in 1969 and since that time the cement panels on the rooftop have deteriorated significantly. So, last year, the Pope announced his intention to power his part of Rome with solar energy sent down from the heavens.
According to the Pope, the new installation of solar panels at the Vatican will be used to celebrate Three Kings Day, which acknowledges the three wise men visiting the Baby Jesus. Ironically, however, the timing of the unveiling of the solar panels is just in time for Rosh Hashanah.
Let there be light!