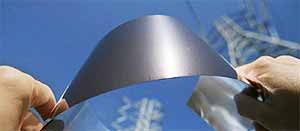 Nanosolar has come up with an alternative that few other solar cell makers have. And, that is to not use the scarce supply of silicon in their solar devices. Nanosolar makes thin film solar cells that are flexible and include CIGS (copper indium gallium selenide) instead of silicon.
The San Jose, California based Nanosolar has raised more than $100 million in financing over the past 5 years to develop and manufacture its new technology. The Google Guys, Larry Page and Sergey Brin are big time investors in Nanosolar.
With plants in both San Jose and Germany, Nanosolar intends to manufacture 430 megawatts of solar panels, which would jump the United States into second place for solar production, just behind Japan. Two days ago, Nanosolar shipped its first commercial solar panels to use in a power plant in Germany.
The first three panels to come off the assembly line, however, were saved for different purposes. The first panel will be on display at the Nanosolar exhibit. The second panel is being auctioned off on eBay. I just checked and at the time of this writing there are 85 bids and the current price is $10,600. The third panel has been donated to the Tech Museum in San Jose, which is quite an interesting museum for those who haven't been there.
The goal of Nanosolar is to get the manufacturing process of its Solar CIGS panels so cost effective that it will be able to deliver solar energy for less that $1 per watt, which is far cheaper than that offered by coal-fired power plants. Nanosolar's two main products are Utility Panel for megawatt sized power plants and SolarPly for smaller applications.