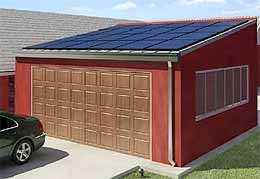 The Envision LifePort solar carport is debuting at the Electric Vehicle Symposium 23 (EVS-23) this week in Anaheim, California. The Envision LifePort has been designed to help homeowners not only power their residences in an environmentally-friendly manner, but they can also power their electric vehicles as well.
The photovoltaic carport offers both residences and businesses a cost effective renewable energy power plant right on their premises as a do-it-yourself project or with the aid of a contractor. The Envision LifePort offers a modular design that can start with as few as 12 polycrystalline PV modules or be scaled up to 32 modules for maximum power output.
The Envision solar carport is made of recycled light gauge steel framework that is easily assembled via instruction manual and videos. The Envision LifePort is especially attractive in locations where net metering is available since it will spin the electric meter backwards saving money on monthly bills.
At approximately 22 ft. square (and scalable), the Envision LifePort is rated at 4.8 kw (and can be boosted to 6.4 kw) and delivers and average of 16.4 kw-hrs per day. State level incentives also apply to owners of the Envision solar carport for both homeowners and business owners as well.