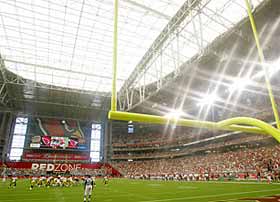 Super Bowl XLII is going green this year and not just in the million dollar commercials at halftime. As part of its EarthWise Energy Program, Arizona's Salt River Project (SRP) will use 100-percent renewable energy to power the University of Phoenix Stadium in Glendale along with the NFL Experience Football Theme Park, which is in the same vicinity.
When the New England Patriots and New York Giants step on the field, most players will not realize that the lights, electronics and other electrical devices will be powered by a blend of geothermal, wind, solar and hydro power. Fox News will also be purchasing renewable energy from SRP for the Ritz-Carlton and Phoenician hotels, in which they will be hosting high-profile guests.
This grid iron irony of playing on green while using green energy won't be lost on some of the fans, however. Trees will be planted on seven local school campuses as well as 96 acres of reforestation in celebration of Super Bowl XLII.
Mean Joe Green may no longer be playing football, but another kind of green will be at the stadium this Sunday and in a different way will electrify the fans.