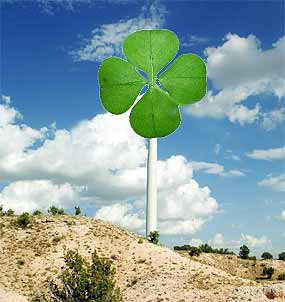 There's a festival going on today that is celebrating a double dose of green. Not only is the St. Patrick's Day festival in Holland celebrating leprechauns, the luck of the Irish and green beer, but they are also celebrating green energy as well.
Sure, there will be a parade with the traditional floats, a grand marshal with a family connection to the 1840's potato famine and marching members from the Boys & Girls Club. But, St. Patty's Day is also a part of Energy Week in Holland, a time to celebrate green renewable and sustainable alternatives.
The Boys and Girls Club will be handing out free coupons for CFLs. There will also be a free screening of the movie "Kilowatt Ours," an environmentally-focused film of empowerment.
In addition to the general malarkey and shenanigans of the day, there will also be on display information about solar panels. And, as luck would have it, the rumor is that the organizers may also have on display a wind turbine powered by a four-leaf clover.
At least this could happen if only a fair maiden kisses the Blarney Stone and wishes it so. So, Happy St. Patrick's Day to all you green spirited types and you can bet your Lucky Charms tomorrow will be a better day!