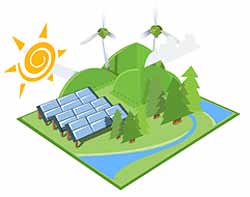 In October 2006, search giant Google announced that it was installing over 9,000 solar panels at its Mountain View, California campus. This 1,600 kilowatt project made Google the envy of Yahoo and other corporate giants with their own green programs.
Then Google announced their RechargeIT Initiative to encourage the development of plug-in hybrid vehicles. Google is working with A123 systems and Hymotion to convert their own fleet of hybrid vehicles to plug-in hybrids and help test the cars for wider adoption.
A few weeks ago, Google announced their UK Carbon Footprint Project. People in the United Kingdom are now able to track their carbon footprint, compare it to others in the area and take steps to reduce their environmental impact.
Yesterday, Google announced a plan to develop renewable energy resources that will be able to produce electricity at a cost less than that charged by coal-fired power plants. This alternative energy search engine plan is being developed in conjunction with Google.org, the philanthropic arm of the corporate mother ship.
Google's "Renewable Energy Cheaper Than Coal" project or RE < C for short, calls for the search giant spending tens of millions of hundreds of millions of dollars on solar thermal, wind and geothermal energy technology. The point of the project is to deliver cheap, renewable electricity to a city the size of San Francisco within years and not decades.
Just when you think the search behemoth can't go any greener, they go for the gold. And, Google expects that going green will also keep them in the black. The bottom line is that renewable energy is also profitable and you don't have to search long and hard to see that.