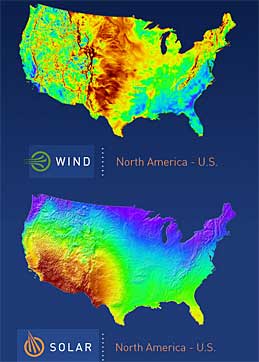 A company called 3Tier, around since 1999 is remapping the world's wind and solar resources. While it may seem obvious to some, one of the most important aspects of installing a wind or solar farm is picking the right location.
Just as in residential or commercial real estate, it's all about location, location, location, so goes it with wind and solar resources as well. The 3Tier system gives the most detailed and historical maps of wind and solar hotspots for any given location.
Also, as wind and solar energy tends to be fickle with night, clouds, calmness and other environmental factors getting in the way of consistent electrical production, this all needs to be taken into account by the builders of wind farms, solar installations and the traditional power companies buying the renewable energy.
The top part of the map above shows the Wind Corridor in the U. S. that T. Boone Pickens is referring to in his Pickens Plan. The bottom part of the map, shows the obvious bias of the sun's energy directed towards the southwest of the country.
In fact 3Tier has put up a temporary wind and solar map that one can zoom in one in Google Maps style and see on a small scale where the pockets of activity and energy are most concentrated. This will give engineers and planners at more accurate representation of the viability for the locations of their renewable energy projects.
Just supposed that land you were to purchase for a project of this magnitude was located just a ½ mile from a more ideal location? This kind of sophisticated mapping will help avoid mistakes and pick the right locations the first time before the first panel or turbine is put into place.
The oil generation used to speculate as to what location may work well and there was a lot of hit and miss in this process. With today's technology, renewable energy can use this current high tech computerized analysis and reduce speculation and increase profitability right from the get go.