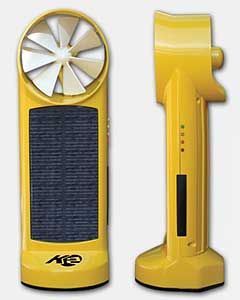 The 2009 International Consumer Electronics Show (CES) in Las Vegas is in full swing now and one of the darlings of the show is the Kinesis K2 wind and solar charger. Over the past year, small hand solar chargers have been coming into their own for recharging all sorts of small electronic devices.
But, small wind-powered chargers have been lagging and so Kinesis sought to remedy this shortcoming by putting both a solar and wind charger into one device. At first the Kinesis charger looks like a small solar powered fan.
On closer inspection, however, one can see that the K2 is a dual charging unit made for those who want to recharge cell phones, iPods and the like while in a windy or sunny city like Chicago or in a remote region while hiking, bikes or camping.
The Kinesis K2 is weatherproof and comes with an LED power indicator light to let you know the level of charge. In addition, the K2 comes with a USB port and various other adapters and ports for the recharging of various devices. This is one green gadget that may be just as useful as it is cool-looking.