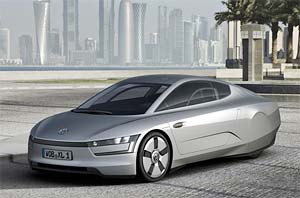 With Egypt in crisis, Yemen, Iraq, Iran and Afghanistan still Middle East hotspots, this has not deterred Volkswagen from rolling out what could be a game-changing vehicle in the tiny country of Qatar.
The VW XL1 Super Efficient Vehicle (SEV) was on display recently at the Qatar Motor Show. The VW XL1 uses a two-cylinder diesel engine and plug-in hybrid electric motor plus aerodynamic design to gain an amazing 313 mpg. Yes, it's only a two-seater but the XL1 has the makers of the SmartForTwo drooling right now.
After the XL1 is plugged in and fully charged, the vehicle can run 35 miles on all electric mode before the common rail diesel TDI engine kicks in. The body of the VW XL1 reminds me somewhat of the Honda Insight hybrid or the GM EV1 when it first rolled out.
Using Carbon Fiber Reinforced Polymer to reduce the weight of the parts in the vehicle, the VW XL1 comes in at a svelte 1751 lbs. For many years the VW Bug was known as the economy car with good gas mileage.
Then in years 2,000 – 2010, Toyota and Honda took this honor away from VW. Now with a new decade ahead, VW has slapped down the gauntlet setting the bar extremely high for the other automakers.