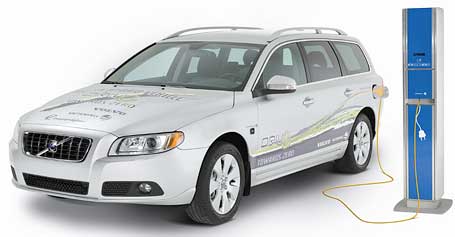 This may not sound like a big deal at first. What, another hybrid? But, this is much bigger than that. The Volvo V60 PHEV is a plug-in hybrid electric vehicle that runs not only on battery power but on clean diesel fuel as well. I'm getting all green with excitement, now.
According to Volvo the V60 PHEV Diesel has 3 different temperaments of operation:
• "In Pure the car runs only on its electric motor as much as possible. If the battery has been recharged using electricity from a renewable source, the driving range is up to 50 km with zero emissions of carbon dioxide. Battery range varies with terrain, climate and driving style.
• "Hybrid is the default mode whenever the car is started. The diesel engine and electric motor interact to provide the optimal balance between driving pleasure and low environmental impact. Emissions of CO2 (EU Combined) are 49 g/km, corresponding to diesel fuel consumption of 1.9 l/100 km. The car's total range is up to 1200 km.
• "In Power the technology is optimized to give the car the best possible performance. The diesel engine and electric motor have a combined power output 215 + 70 horsepower and maximum torque of 440 + 200 Nm. The electric motor's lightning-quick torque delivery contributes to the car's 0 to 100 km/h acceleration time of 6.9 seconds."
General Motors has found out a pleasant surprise with their Volt PHEV and that is that most drivers on a daily basis (like to work) travel less than 30 miles a day. This means no liquid fuel is consumed as the vehicle will run on all-electric power (now don't get me started however, on why Volt sales are down).
The other game changer is that the Volvo V60 PHEV is a clean diesel beast. For the past 3 years diesel cars have not been anything like the black smoke belching diesel cars, trucks, buses or trains of the past. In fact, they have been the antithesis of these.
In fact, oil companies have cleaned up diesel fuel and carmakers have implemented new technology such as special fluids to clean the exhaust of diesel cars or catalytic solutions in order to achieve less emissions than most gasoline-burning cars.
So the Volvo V60 PHEV combines the best of both technologies: plug-in hybrid batteries plus clean diesel engines to create a very green car indeed. Now, if we can just get the American public to buy into the idea that both PHEV's and clean diesel engines are worthy of buying, then we would all breathe a little easier for years to come. Literally, breathe a little easier.