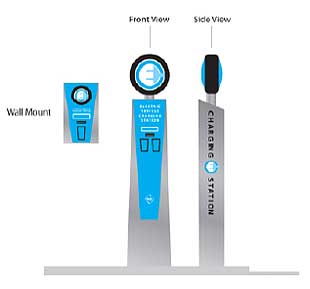 Portland General Electric (PGE), based in Portland, Oregon is rolling out a dozen recharging stations in the area for plug-in hybrid electric vehicles (PHEV). This is in anticipation of several major automakers including GM and Toyota rolling out their PHEVs by 2010.
The recharging stations are powered by 100-percent renewable energy and are free to use during the testing phase. The first station went live at the PGE headquarters on July 29, 2008 and replaced an electric car only station that was placed there in 1996.
The purpose of putting up the PHEV charging infrastructure in advance is to encourage this technology to come to fruition. Since Portland, Oregon has the highest per capita users of hybrid vehicles in the U. S., PGE think that PHEVs will be a hit here as well.
The recharging stations are also equipped with smart meter technology so that conceivably the PHEVs could actually sell power back to the grid during peak load times. Some of the planned locations for the recharging stations include Burgerville, the Marriott Hotel and the Oregon Museum of Science and Industry.
Though this is clearly motivated by self-interest, it will also help the early adoption of PHEVs in the area and may spur other electric companies to follow suit. And, this makes a lot more sense than PG&E (Pacific Gas and Electric) in northern California putting up a hydrogen fueling station which clearly goes against self-interest.