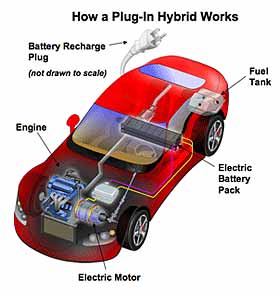 When Toyota was developing the marketing campaign for the Prius, its number one goal was to educate consumers that this was a gasoline-electric hybrid vehicle that didn't have to be plugged in. Their thinking was that people really didn't want to plug in their cars.
This was either a miscalculation on Toyota's part or the public consciousness and consensus has change or both. With some prodding from Team Fate and the California Cars Initiative in Northern California, Toyota and other manufacturers have started to develop plug-in hybrid vehicles and get the public excited about it.
With rising fuel costs and the instability in the Middle East consumers now want to plug in. Now, that the word is out that consumers actually want plug-in hybrid cars that exceed 100 mpg, some of the major automakers are going full tilt on this effort.
Toyota is testing its plug-in Prius at various universities and with corporate customers. Ford has delivered its first Escape plug-in hybrid vehicle to Southern California Edison for testing. General Motors is working with A123 Systems to develop the next generation of lithium ion battery for the Chevy Volt.
Mitsubishi is considering the feasibility of rolling out a plug-in hybrid city car by 2010. And, now a company called Raser have thrown themselves into the mix by jointly developing a plug-in hybrid powertrain with FEV for an undisclosed major automobile manufacturer.
President Bush has been critical in the past of some of the auto manufacturers for not making cars that people want to buy. Perhaps these same companies have taken notice and have decided to build the types of cars for which the public has an appetite and that appetite right now is for vehicles that get over 100 mpg.