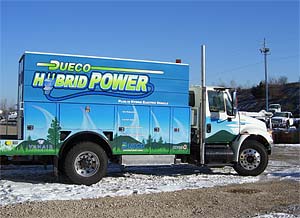 Well, I don't usually simply copy and paste a company's press release as I find this lazy and not really adding anything that a simple link couldn't add. But in this one case, I'm simply going to lay out the press release of this PHEV underground vehicle and let you choose the merits of such a device.
"DUECO Inc., in conjunction with Odyne and Vanair Manufacturing, is the FIRST to offer a Plug-In Hybrid Underground Utility Vehicle (HUUV). With enough power for plastic pipe fusing, the truck's hybrid drive system powers an air compressor, exportable power, and an auxiliary climate control system.
"The Vanair 125 / 185 CFM underdeck air compressor is a common piece of equipment used by utility companies to operate pneumatic tools, such as pavement breakers, tampers and mole tools. 'By powering the Vanair compressor through a large battery system we eliminate engine idle, as well as, the need for a tow-behind compressor at a jobsite,' states DUECO Executive Vice President Joseph Dalum. The HUUV is also equipped with a compressor automatic shut down device that automatically starts and stops the compressor based on demand. This element substantially increases battery life and decreases needless compressor operation.
"At the end of a workday, the HUUV plugs into a charging station where the batteries recharge during off-peak hours. The truck can also recharge at any point, while idling or driving, with the conventional diesel engine. The unit is complete with regenerative braking and launch assist to provide additional fuel efficiency, emission enhancements, extended brake life. These additional PHEV features offer greater benefits than just an idle reduction system.
"DUECO Inc. and Odyne have previously unveiled the industry's FIRST Plug-in Hybrid medium-duty aerial lift, heavy-duty tandem axle aerial lift and digger derrick.
"Specializing in the final stage manufacturing of aerial lifts, digger derricks, cranes, and custom bodies, DUECO can also provide trailers, mini-diggers, cable placers, parts, and service. Family owned and operated for more than 50 years, DUECO's philosophy of teamwork, integrity, and open communication with customers and employees help ensure high quality equipment at the best value."
There you have it, a first, a one of a kind. PHEV's are the future and not only make sense for cars but also make sense for large work trucks and many other kinds of vehicles as well.