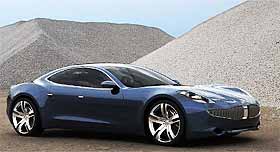 While there has been a lot of hoopla about hybrids of the plug-in variety from the large automakers such as Toyota, GM and Ford, there is a newly formed automaker who may just beat the other three to market. Fisker Coachbuild has teamed up with Quantum Fuel Systems Technologies Worldwide to form a new company Fisker Automotive that will bring a luxury plug-in hybrid sports car to market in the late 2008 or early 2009 season.
The new Fisker premium four-door sports car will feature Quantum's high-performance proprietary plug-in hybrid architecture known as "Q-Drive." The Fisker hybrid will sell for around $80,000 to $100,000 when it comes to market and will make its debut at the Detroit North American International Auto Show (NAIAS) in next month.
Only 100 of the Fisker plug-in hybrids will be built at first in order to test the market but they expect to scale up production to about 15,000 per year. The Fisker hybrid may be recharged with a standard 110v outlet or there are a few other options that customers may choose for the vehicle. For instance, Fisker will be offering a 220 fast charging system and even a solar carport designed and built by Quantum with Asola, its German partner.
Fisker will also be offering a solar roof panel, designed by Quantum that will offer additional cooling of the lithium-ion batteries and trickle charge these same batteries as well. Designed by Henrik Fisker, who also had a hand in the design of the BMW Z8 and V8 Vantage, this vehicle has yet to be given a name. Fisker Whysker anyone?