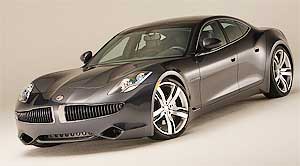 The last time I talked about the Fisker plug-in hybrid car was December 2007. At that point it was a month shy of making its worldwide debut at the Detroit Auto Show. Now, the Fisker Karma has made it long awaited debut in San Jose, California.
The Fisker Karma combines gas-sipping plug-in hybrid green technology with sports car performance. The Karma can travel the first 50 miles on all battery power alone before the engine kicks in to recharge the lithium ion battery pack.
Rated at around 100 mpg, the Fisker Karma can also accelerate from 0 to 60 mph in around 5.8 seconds with a total rating of 403 hp. Just try this with a Prius.
The Fisker Karma is a 4-seat hardtop convertible and was debuted at Santana Row in San Jose. It is expected to sell well to Silicon Valley residents with a price tag of around $88,000.
One of the reasons to rollout the Karma first in San Jose is that there is already an electric vehicle recharging infrastructure already in place. Many garages and streetlight poles already have ChargePoint stations attached.