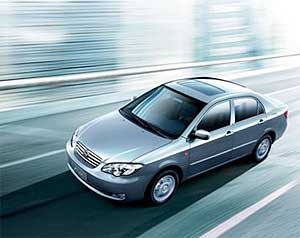 With the GM Volt plug-in hybrid still a couple of years off and the Prius plug-in following closely in its footsteps, China has leapfrogged the world's largest automakers with the BYD F3 DM plug in hybrid car. BYD has used their experience as one of the world's largest battery makers to rollout their plug-in hybrid in Shenzhen.
The BYD F3 DM also one-ups the Chevy Volt already in one way as its driver can travel the first 60 miles on all battery power alone (as opposed to the Volt's promised 40 mile all battery range). The BYD F3 DM takes seven hours to charge from an ordinary household outlet, but China has stated they are planning on building public "quick charge" outlets that can recharge plug-in hybrids to 50-percent capacity in just 10 minutes.
Once the battery is exhausted a small 1.0 liter gasoline engine kicks in to recharge the 100 lithium ion pack. The plug-in hybrid is capable of accelerating from 0 to 60 mph in 10.5 seconds and has a top speed of 100 mph.
One of the challenges for the BYD F3 DM in China is the fact that many potential drivers live in tall buildings in major cities without a way to charge their cars from electrical outlets. This may make the BYD F3 DM more suitable for U. S. drivers when it rolls out in 2010, a timeframe the will compete head-on with the Chevy Volt and Prius plug in.
The fuel and cost savings for the BYD F3 DM is significant since it will cost around $1.40 in electricity to drive the car its first 60 miles. BYD expects to sell upwards of 10,000 of the F3 DM plug-ins over 2009 for around $22,000 apiece. Since Warren Buffet is a major investor in BYD Auto, one can expect many U. S. hurdles to be paved before the rollout here. And, if this weren't good enough, watch out for the BYD E6 all electric car rolling out the following year.