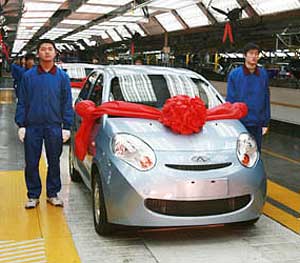 The Chery S18 is the second Chinese-build PHEV that will take a bite out of the Chevy Volt and Toyota Prius plug-in pie. Yesterday Chery announced its S18 (pictured) that can run 93 miles on all battery power alone.
Compare this to the Chevy Volt that rolls out in 2010 that promises only the first 40 miles will be battery powered. The Chery S18 will use iron-phosphate lithium-ion batteries that can be charged from a household 220v outlet in as little as four hours and quick charged in 30 minutes to 80-percent capacity.
The top speed of the Chery S18 will be around 75 mph, so it won't be a speed burner. The rollout date of this Chinese plug-in hybrid has yet to be announced. In December 2008, I had talked about the first Chinese plug-in hybrid to be unveiled, the BYD F3 DM.
This PHEV has already rolled out in Shenzhen, China with the blessing of investor Warren Buffet and efforts to bring this car onto U. S. soil is now underway. The Chinese government is heavily subsidizing both the Chery S18 and BYD F3 DM as it plans to have 60,000 such vehicles in Chinese cities by 2012.
With the major U. S. automakers failing right now, the Chinese carmakers have a golden opportunity to go green and make enormous headway in the world marketplace. Cleaning up their own house is the first order of business, however, as automobiles account for 50-percent of the Chinese oil consumption.