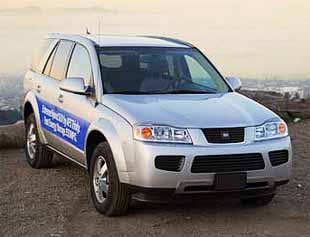 The Extreme Hybrid XH-150 by AFS Trinity is taking a little tour now and will end up at the Capital Mall in Washington DC on Earth Day, April 20, 2008. The XH-150 is a plug-in hybrid SUV that was first unveiled in January this year.
The cross-country tour started in San Francisco yesterday and will take a pass through Texas to be demonstrated to Austin Energy (not Powers) and Plug-in Partners, which each have a stake in the developing plug-in hybrid electric (PHEV) marketplace.
The Extreme Hybrid is said to achieve 150 mpg average with the first 40 miles being on all electric power. The 200 hp electric motor combines with a gasoline engine to create 370 total horses that accelerate from 0 to 60 mph in just 6.9 seconds. Not too shabby for an SUV. The Extreme Hybrid XH-150 also has a top speed of 87 mph.
The Extreme Hybrid XH-150 is positioning itself to be the perfect vehicle for treehugging soccer moms. It's an SUV that gets 150 mph and on the days you drive 40 miles or less no gasoline will be used. Throw the kids in the back and break of the veggie burgers as the Extreme Hybrid may just change the face of driving today.