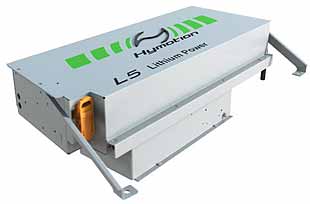 If you just can't wait for 2010 for Toyota and GM to rollout their official plug-in hybrids, and want to start saving gasoline now, then the A123Systems Hymotion may just be the plug-in device you need. Right now the A123Systems Hymotion Plug-In Conversion Module (PCM) is available only for the Toyota Prius.
A123Systems has gotten permission from the State of California to sell up to 500 of these PCM's initially with a sticker price of $9,995. But what does the Hymotion deliver? According to the specs this module is designed for a Prius, model year 2004 – 2008 and will deliver 100 mpg for the first 30 to 40 miles of driving.
The Hymotion even comes with a 3-year warrantee and passes all federal crash test standards. Besides California, A123Systems is also looking to establish dealership networks in Seattle, Minneapolis, Boston and Washington, D.C. as well.
The Hymotion is using Nano Lithium Iron Phophate (LiFePO4) batteries to power the Priuses and has been approved by the California Air Resources Board to go forward in helping the automakers meet their quota of required plug-in hybrid electric vehicles (PHEV) over the next five years.
A123Systems has also been working with General Motors using similar technology that will be placed inside the Chevy Volt and rolled out to the public in a couple of years. So, if you already have a Prius and you'd like to move from HEV to PHEV now is your chance to pounce. With the high price of gasoline right now, plugging in may be more appealing than feeling the pinch at the pump.