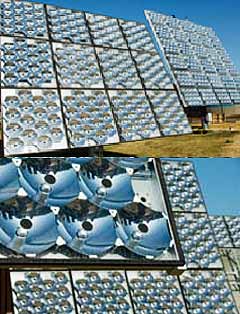 SolFocus, from Mountain View, California now has a plain view in focus in Spain. SolFocus is constructing a 500 kw concentrator photovoltaic (CPV) system as part of the Spanish ISFOC (Spain's Institute of Concentration Photovoltaic Systems) project.
The Solfocus CPV systems uses lenses and mirrors to focus sunlight on solar cells making for a more intense and efficient use of energy. The Solfocus CPV also tracks the sun for the most direct sunray angles during the day.
Other similar photovoltaic systems use dishes or parabolic troughs to focus light, so the Solfocus CPV is unique in its ability to intensify more sunlight than these other systems. According to Solfocus VP, Pedro Ladrón de Guevara, "We share the belief with the ISFOC leadership that CPV is the disruptive technology that will have a major impact in moving solar energy toward a more cost-effective and scalable mainstream energy source."
The mission of Solfocus is to bring forth solar energy solutions that are competitive with current fossil fuel prices, without the use of government subsidies. And, Solfocus believes that concentrator photovoltaic is just such a technology.