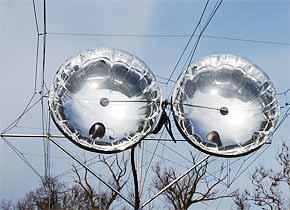 Cool Earth Solar balloons upon first glance may be likened to something one would find at a kid's birthday party. But, the Cool Earth Solar balloons are anything but toys and definitely not for children.
Cool Earth Solar has just received $21 million in funding from private investors to develop their solar concentrator balloons. The Livermore, California company will be manufacturing these metalized plastic balloons, which will concentrate the sun's energy upon photovoltaic cells in order to generate electricity.
Since the solar balloons are made of plastic, the manufacturing costs are cheap, bringing the total cost of electrical generation to a point that is lower than that of natural gas power plants. According to CEO Rob Lamkin, "We will apply the funding towards expanding our team, developing our technology, and building our state-of-the-art solar power plants."
The Cool Earth Solar balloons can withstand a 125 mph wind, are water-cooled and can be scaled up globally. The high-tech balloon firm is now negotiating to sell electricity to utility companies from their solar balloon farms. The company has no plans to sell their solar balloons, however, to residents as they are utility-scale systems only.
While the Fifth Dimension may be singing, "Would you like to ride in my beautiful balloon" it is Cool Earth Solar, however saying, "Would you like to buy my beautiful balloon." Expect to see balloons and confetti coming soon to a utility company near you.