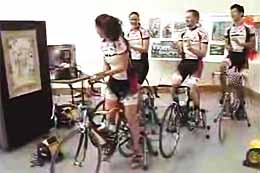 MIT student cyclists are using pedal power to run computers and burn calories. Back in November of this year, MIT students were given an assignment as part of a course in civil and environmental engineering to build a device that "converts mechanical power into electrical power."
So, the students came up with an ingenious idea to build a exercise bike to power a laptop computer. The pedal-powered laptop computer was designed ergonomically so that the cyclist could both exercise and use the computer at the same time. This multifaceted, multitasking feat, however, would give way to another more ambitious project.
Last week 10 MIT cyclists set a world record (they are submitting to Guinness) by powering a couple of SiCortex SC648 supercomputers over a 20-minute nonstop ride. Inspired also by Google's "Innovate or Die" contest, the bicycle pedal power was converted to alternating current to run a fusion reaction program on the computers.
The MIT cyclists generated much more power than necessary at 1.2 kw as the low-power SiCortex supercomputers need only about 8 watts to run. The MIT students are hopeful that they will win Google's contest, while drawing attention to using low tech pedal power to drive high tech supercomputers.