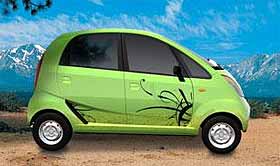 The Tata Nano car has been unveiled in India and dubbed "The People's Car" because the selling price is only $2,500. That's right, not only is the selling price under $10,000 but way under this figure.
The Nano car is fuel efficient too coming in a 54 mpg. This mini car is powered by a 2-cylinder all-aluminum 30 HP Bosch 624 cc four-stroke fuel injected engine and is geared to provide transportation to those with low economic means. The low tailpipe emissions also exceed industry requirements.
The rumors of the Nano car have been flying for a while and the price tags seems outrageous but CEO Ratan N. Tata has assured those at the 9th Auto Expo in New Delhi that this is no joke and that his car will roll out to consumers this year.
Although small in stature, the Tata Nano car was designed to hold four people comfortably. In order to achieve its excellent gas mileage the Nano car is lightweight, all sheet metal design and uses an engine management control system to optimize performance.
Cheap, clean and green, the Tata Nano car is putting other automakers on notice.