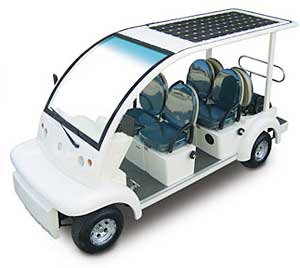 Universal Studios in Hollywood, California has decided to throw their gas-powered carts under the bus and go solar. In fact, Universal Studios has decided to buy 300 Cruise Car solar electric vehicles for all sorts of people to drive around their 415 acre lot.
The Cruise Car Solar Electric Hybrid Cars are currently the only vehicles of their types in mass production with over 50 varieties available. The solar panels are on the rooftop, which help to recharge the vehicles during those long Southern California days.
According to President of Cruise Car, Ken Chester, "We commend Universal Studios for being leaders in the entertainment industry by converting to alternative energy transportation. They have demonstrated their commitment with action, and not just words."
High-power Hollywood actors and actresses, those with bit parts, studio executives, notables and not so notables alike will all be driving around soon using solar energy and plug-in power to cruise the studio lots. The Sunray Solar Top along with plug-in hybrid battery will provide power and make the gasoline-powered studio "golf cart" obsolete.