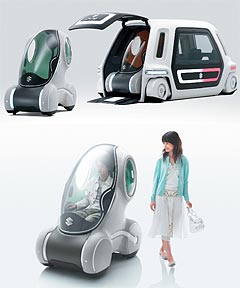 The Suzuki Pixy is another pod people favorite from the 2007 Tokyo Motor Show. Officially called the Suzuki Pixy + SSC (Suzuki Shared Coach), these futuristic vehicles could have come straight out of a SciFi thriller.
Two of these little Segways-on-steroids can be driven into the Suzuki Shared Coach, which can then be driven to a new location. The first Suzuki Pixy to enter the SSC has control of the vehicle until stopped and both personal transportation vehicles disembark the mother ship.
The Suzuki Pixy is another foray into hydrogen technology. At the same show, the vehicle maker rolled out the Suzuki Crosscage fuel cell motorcycle, also running on hydrogen.
The Suzuki Pixy uses both solar energy and hydrogen to power the wheels of the vehicle. One could expect in the future to find a pair of Suzuki Pixys at an airport or some other large indoor facility, such as a giant mall.
With all of the personal transportation concept devices being rolled out recently such as the Suzuki Pixy and Toyota i-Real, it would be interesting to see a little bumper car competition between the different models.
Don't look for these Back to the Future vehicles anytime soon, however, except, perhaps as part of one of next summer's blockbuster films. The Suzuki Pixy may not be whistling Dixie, but it does give us a glimpse as to where we are headed in the next few years.