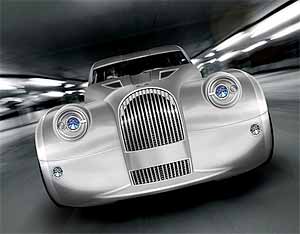 The Morgan LifeCar has finally made its world debut at the 2008 Geneva Motor Show. The two seat Morgan LifeCar is an oddity among future cars not because of its aluminum shell but because like other Morgan vehicles it was build upon a wooden frame.
This can also be seen on the inside of the vehicle as the interior also boast aluminum and wood, though a more classy take than some other vehicles may have. The Morgan LifeCar is a zero emissions fuel cell vehicle as well.
The fuel cell, manufactured by British defense company QinetiQ, is smaller than most, but aided by powerful ultracapictors that give the vehicle a quick burst of energy as needed. The fuel cell vehicle can accelerate from 0 to 60 mph in about 7 seconds and has a top speed of 90 mph.
The Morgan LifeCar also uses regenerative braking to recharge its electrical system and electric motors are mounted in each wheel for independent acceleration. This zero emissions sports car may be a novelty in its field, but it does show the flexibility of fuel cell technology and the design that can spring forth when an internal combustion engine and transmission is noticeably absent.