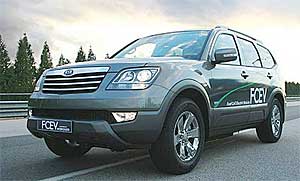 It's that time of year again when the green cars are rolling out at the Los Angeles International Auto Show. And, one of the sparse fuel cell cars that have seen the light of day this year is being unveiled, the Kia Borrego FCEV.
For several years now, Kia has been making the hydrogen car shows and green car circuits with their Sportage FCEV. But, Kia thought they needed to upgrade a bit and they are right.
The Kia Borrego doubles the range of the Sportage from 215 miles to 426 miles, using three onboard compressed hydrogen fuel tanks. The fuel cell is upgraded and now paired with a bank of supercapacitors, which supply a 47-percent boost in power.
The high end speed of the Kia Borrego FCEV now tops out at 100 mpg, compared to 93 mpg for the Sportage. Kia see this as a step towards commercial production as they expect by 2010 to produce a limited rollout of FCV's in South Korea and perhaps even beyond.
Due to the lack of competition this year from most other fuel cell car manufacturers (GM and Honda being the exceptions) the Kia Borrego is en fuego and will give a well needed spark to the green car section of this annual event.