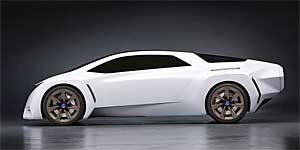 At this year's Los Angeles International Auto Show, Honda decided to give its fuel cell Clarity an extreme makeover. The Honda FC Sport is a design concept that shows what a hydrogen fuel cell supercar could look like sometime in the future.
The Honda FC Sport is a three-seater with the driver in the middle of the vehicle and each passenger slightly behind. The fuel cell powertrain is exactly that of the Clarity so don't get too excited over the innovation here.
This design study, though reconfigured what goes where with the FC stack behind the passenger seats, the electric motor just ahead of the rear axel and the hydrogen tanks visible from the rear windows. The concept was commission to the Honda Advanced Design Studio in Pasadena, California.
This green meets mean Honda FC Sport will most likely never see the light of a showroom floor. Its purpose is to gauge public reaction and the amount of ooh's and ahh's will give the automaker some marketing direction.
Perhaps Honda will give a little of this marketing direction to GM, Ford and Chrysler who were on Capitol Hill yesterday with their pitch to stay solvent in this recessed economy.
Then again, perhaps the Honda FC Sport is a breath of fresh air meant to shed a little light on all of the possibilities that the future of automobiles holds regardless of current industry realities.