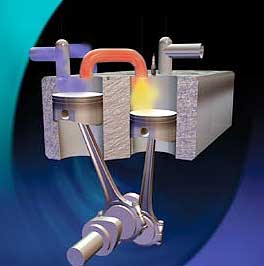 The Scuderi split-cycle air hybrid internal combustion engine may just be the next big thing in automotive technology. Move over battery electric hybrid, PHEVs, FCVs and other alternative fuel vehicles. The Scuderi ICE may just be the better mousetrap for which car manufacturers have been waiting.
The Scuderi air hybrid uses split-cycle paired cylinders for power. According to independent third party validation, the efficiency of a Scuderi engine is around 40-percent compared with 33-percent on a standard internal combustion engine (ICE). Toxic emissions are also reduced by 80-percent.
What makes the Scuderi different than a typical ICE? The Scuderi air hybrid uses a power stroke on every revolution, fires after top dead center, has a flame speed 4 times faster than conventional ICE and uses compressed air to store energy rather than a battery.
The Scuderi air-hybrid also is knock resistant, has a helical crossover passage that helps with the appropriate mixture of gasoline and air, unique spark plug location that promotes more complete combustion of fuel and less emissions, plus it has a fast action variable valve configuration.