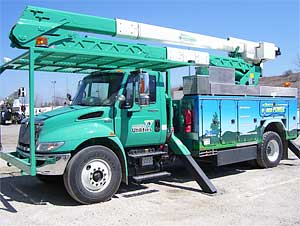 I've talked about Odyne Systems and DUECO twice before. The first time I talked about these companies was in February 2008, where in Gettysburg, Pennsylvania, they along with the Adams Electric Cooperative unveiled the world's first plug-in hybrid electric vehicle (PHEV) utility truck.
Then a month later in 2008, Odyne Corporation upped the ante again by unveiling the world's first CNG PHEV refuse truck in Fresno, California. Well, this year Odyne and DUECO have done it again and this time in Wisconsin, the home office for each company.
This dynamic duo of large plug-in hybrid electric vehicles has unveiled two new utility PHEVs to both Marshfield and Plymouth Utilities. Like the PHEV rolled out in Gettysburg, Pennsylvania, the Marshfield PHEV is a utility bucket truck.
On the other hand, Plymouth Utilities is the first to own and operate a 4×4 Plug-in Hybrid Digger Derrick. This hydraulic truck is typically used to drill holes in the earth for telephone poles.
Both trucks recharge their batteries at night using off-peak electricity from the grid. Now, if we could just get them to use wind energy for recharging they would be that much cleaner. Regardless, turning large heavy trucks into hybrid vehicles is a definitely a step in the right direction.