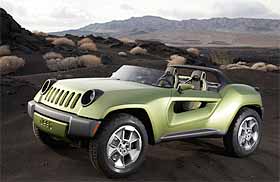 The Jeep Renegade Concept was just unveiled at the 2008 Detroit Auto Show transforming hybrid vehicles into a whole new species. Looking like something right out of the movie Transformers (except that they were GM products), the Jeep Renegade Concept is a two seat, environmentally-friendly vehicle that looks like a dune buggy on steroids or perhaps even a teenage mutant ninja turtle.
Chrysler's Renegade can travel the first 40 miles on lithium ion battery alone before the 3-cylinder BLUETEC diesel engine kicks in to give the vehicle a 400-mile range. Loaded with the Chrysler ENVI electric vehicle technology, the Jeep Renegade Concept hybrid can achieve 110 mpg. Take that, Prius!
The Jeep Renegade Concept carries a 200 kw (268 hp) electric motor shared by two other Chryslers also rolled out in Detroit, the Dodge ZEO and the Chrysler ecoVoyager. What makes the Renegade Concept different that these two vehicles are features like the 4-wheel drive, locking differentials and low gear mode one would expect from a rough and tumble vehicle such as this.
This off-road vehicle isn't your daddy's hybrid car as it is made to get down and dirty in the mountains and desolate desert terrain. The Jeep Renegade is just as the name implies, an outlaw in the hybrid community in both fuel economy and rugged performance.