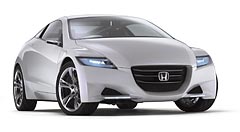 The Honda CR-Z is one of the most exciting green cars to come out of the automaker in quite a while. At the 2007 Tokyo Motor Show, the Honda CR-Z gasoline-electric hybrid concept car was unveiled.
This sporty two-seater shows what the future of hybrid will most likely be, combining the power and speed of a sports car and the gas savings of a hybrid. The Honda CR-Z comes equipped with a mid-engine V6 that produces 300 bhp.
Also included in the Honda CR-Z is a six-speed sequential transmission, high wing mirror, LED headlights and 19-inch wheels. Honda is keeping tight-lipped on other important specifications as this time such as gas mileage and top speed.
The Honda CR-Z (Compact Renaissance Zero) is due into production in 2009 and if the response in Tokyo is any indication as to the popularity of the vehicle, Honda will surely have a hit on their hands.